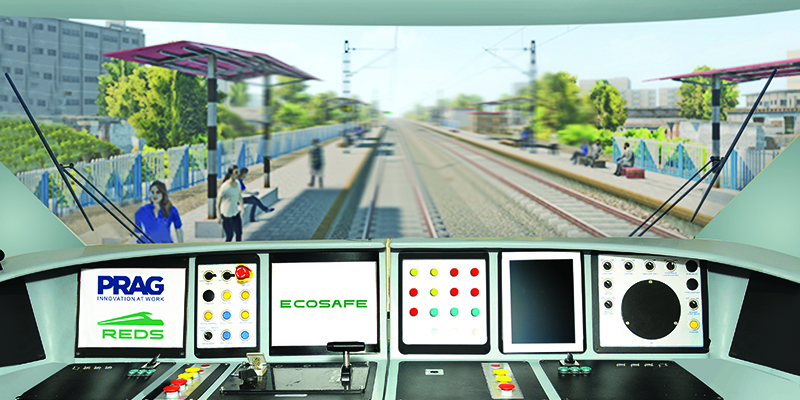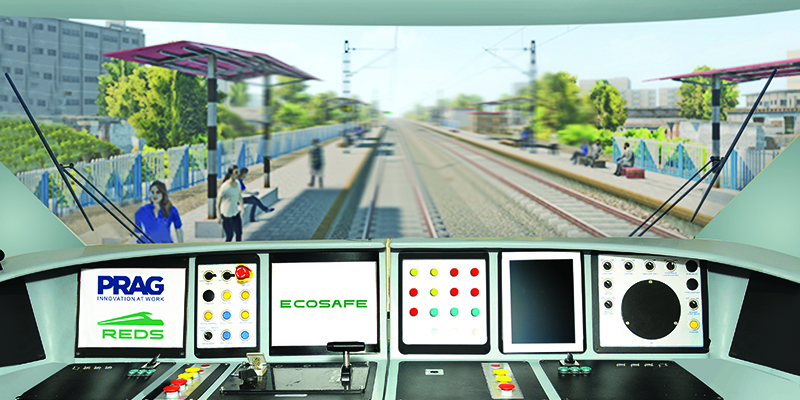 ECOSAFE VR, India's First Virtual Reality Driver Training Simulator, was specially designed for India's first self-propelled trainset – Train-18 / Vandé Bharat Express, by Prag in association with REDS SA, Poland.The simulator, which was successfully commissioned in 2018 at the Integral Coach Factory, Chennai, not only acquaints loco pilots with the cockpit and operations of the new trainset, but also measures driving efficiency by providing energy-consumption based scoring results as well as helps improve emergency response time by simulating unfavourable weather conditions and incidents and measuring driver response.
In addition to a realistic driving experience with a full-scale driver cab and actual driver's desk with all switches and controls, the simulator provides added realism by using Virtual Reality as the primary mode of operation. Additionally, a desktop display mode duplicates the ongoing VR simulation. The software allows multiple training scenarios over one VR World (route) in one train (in multiple configurations). Future extensions for multiple routes and trains are possible.
The key benefit of the VR technology is that while providing complete realism and functionality [except motion] of a full-size simulator and with added VR realism, the simulator is available for a fraction of the cost of a full-blown simulator and requires minimal infrastructure. Its compact size and low cost allows massive scalability.